Bobby Murdoch Phoenix CSC : Celtic News & Humor (2005-06)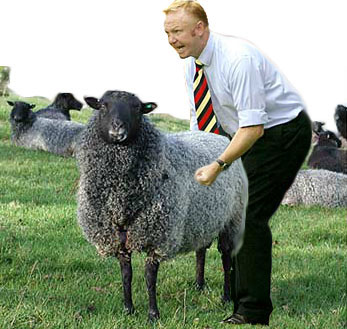 Big Eck Shagging Sheep
Rankers Managerial Situation
David Murray wiz driving through Govan oan his way tae work at Castle Greyskull.
He spots a wee wumin struggling wi' hur shoaping.
He stoaps and asks her, "Kin ye manage hen??"
She replies, "Stick yer joab up yer arse!"
Eulogy for a Beer
Gentlemen, please remove your hats. Bow your heads in respect for the dearly departed, who left us much sooner than expected.

Eulogy for a Beer (.wmv)
What does your daddy do?
Little Billy was in his nursery class when the teacher asked the children what their fathers did for a living. All the typical answers came up- fireman, policeman, salesman.
Billy, however, was being uncharacteristically quiet, so the teacher asked him about his father.
"My father's an exotic dancer in a gay club and takes off all his clothes in front of other men. Sometimes, if the offer's really good, he'll go out to the alley with some screaming gay for a snogging session."
The teacher hurriedly set the other children to work on some coloring and took little Billy aside to ask him, "Is that really true about your father?"
"No," said Billy, "he actually plays football for Ran*ers, but I was too embarrassed to admit it."

Rangers hold their Annual General Meeting
Hoopy Daze are Here Again!
The third day of May could not have been more Hoopy: Celtic back on form defeating Kilmarnock 2:0, meanwhile Hearts going up a man and a goal on Abderdeen to condemn the Blue Horde to trolling the depths of the UEFA Cup for pennies on the dollar. (2006-05-03)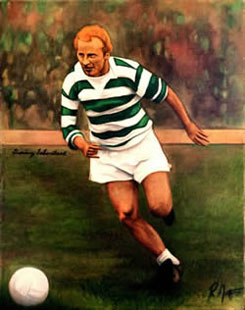 Jimmy Johnstone (1944-2006)
The Greatest Ever Celt
Jinky Smiles on CIS Cup victory
Celtic defeated Dunfermline at Hampden Park 3:0 in the CIS Cup final, in a win dedicated to the sorely missed Jinky. Wee Shaun Maloney, the Bhoy who comes closest to playing like Jimmy Johnstone, was man of the match, scoring one, and setting up another for our current #7, "Magic" Zurawski. Dion Dublin finished off the emotional win with a goal in the 91st minute. (2006-03-19)
Jinky Laid to Rest
Jimmy Johnstone, The Greatest Ever Celt, passed away, March 13, 2006, of motor-neurone disease, age 61. He was laid to rest today, St. Patrick's Day, March 17. (2006-03-17)
Watch the services (.asx) on the BBC.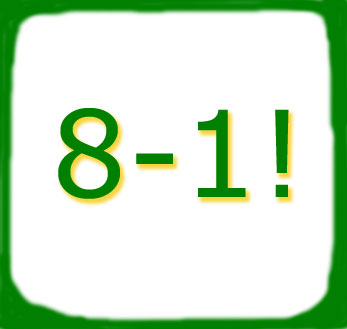 Celtic 8:1 Dunfermline
Petrov 3; Hartson 24; Zurawski 32, 40, 56;
Maloney 74; Lennon 82; Zurawski 88.
The biggest victory in SPL history!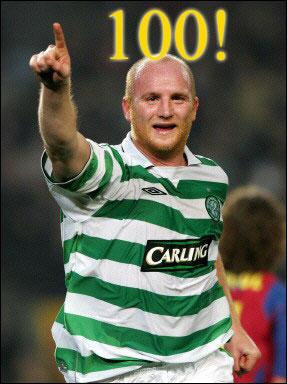 John Hartson : 100 Celtic Goals!