Bobby Murdoch Phoenix CSC : Celtic News & Humor (2007-08)
CHAMPIONS!!! Three in a row!
Silence of UEFA lambs is deafening

"Mayhem on the streets after their event. Police assaulted after their event. Cars ransacked after their event. Innocent people scared half to death after their event. Tens of thousands of pounds worth of damage after their event. FTP, UVF, Fenian blood before and after their event" By the way, is not ironic that in an article about the Orcs rampaging (again), the lead advert asks "How low can you go?" Read more. (2008-05-18)
Orcs Will Never Riot Alone

When you riot in a city
Hold your Buckfast high
And don't be afraid of the plod
At the end of the match
Are golden streams of piss
And trash in the park

Riot on through Piccadilly
Riot on through Spain
Tho' your bonce be bashed and battered
Riot on, riot on
With bricks in your hand
And you'll never riot alone
You'll never riot alone
Tosser of the Week

The Glasgow Sunday Herald is the Tosser of the Week for thinking religious slurs are amusing: "some fans would probably rather have a bead-rattling Hoopy the Huddle Hound in the dug-out". (2008-04-13)

Quote of the Week

"Paul Maloney has a look between his legs and he will like what he sees." Derek Thompson commentating on the 3.20 at Taunton - Maloney's horse was well clear - BBC (2008-02-26)

Deadline Day At Ibrox

Leo McKeown pointed out this "wee bit of comedy gold", titled Deadline Day At Ibrox. (2008-02-21)

Pope John Paul II shockingly displays
an Artur Boruc t-shirt!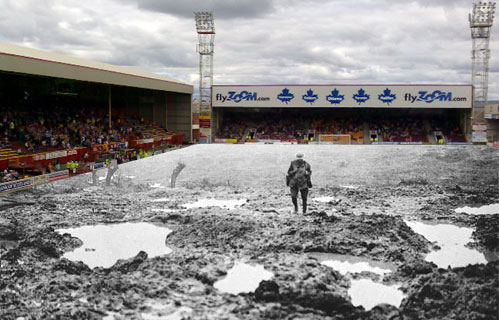 Fir Park : Pre-match pitch inspection
Tosser of the Week

Benfica's Augustin Binya is the Tosser of the Week for the side-kick karate stamp into Scott Brown's shin. "disgraceful lunge" (goal.com), "disgusting challenge" (BBC), "grotesque foul" (Guardian). Luckily, Brown was not crippled, but if there is any justice in the world, Binya will be sitting out the rest of the Champion's League. (2007-11-06)

Quote of the Week

"Tonight he felt the groin and had he carried on and extended himself in any way, he might have actually pulled it." Sam Allardyce on Michael Owen's groin (2007-09-26)
Phil O'Donnell (RIP)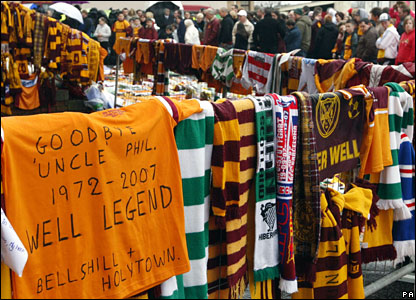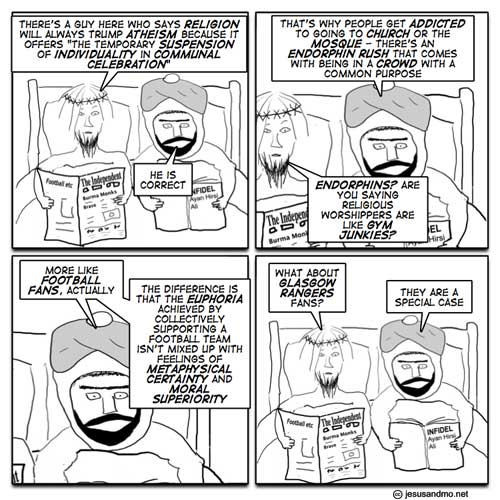 France 0, Scotland 1

James McFadden's cracking goal against the Gauls. (2007-09-12)

Psycho Killer

Ionel Ganea, the nut job who assaulted John Kennedy in 2004, knocking him out for three years, has been banned 22 matches by the Romanian league for assaulting a linesman in the 67th minute of a match between his team Politehnica Stiinta Timisoara and Rapid Bucharest. The thing is, he should have been sent off in the 4th minute of the same match, for assaulting an opponent. (2007-08-31)

Providing a sterling example for associations everywhere ... Scotland *cough* Rangers *cough* ... the Romanian Football Federation banned Poli Stiinta president Marian Iancu for 16 matches for "inciting violence", by publicly backing nut job Ganea for hitting the linesman. (2007-09-25)

Let the People Sing

Let the People Sing is a web site full of great Celtic video clips -- think YouTube, minus the dross -- including why Wee Gordon got sent off against the Sheep Shaggers. (2007-08-20)

Quote of the Week

"When you travel away to Europe you are there almost 24 hours a day." Davie Hay on Setanta Sports before Celtic's friendly against Basel. (2007-07-11)

The Spice Girls in 1996 ...
... the Spice Girls Reunion Tour in 2007